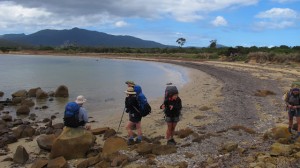 What a great way to get away for a few days to catch up with friends without the intrusions of phone, internet, work and children. (But if you are desperate Telstra works.) Day 1  – The walk begins with a briefing and repack of essential gear at 9 am in the Hobart office, fittingly only accessed by a steep flight of stairs. We also meet our two chirpy guides,  Dayna and Claire who look extremely fit. We set off in bright sunshine and 26 degrees to meet our transfer boat at Triabunna and swiftly reach the south of the Island,  still in full view of the Freycinet Peninsula on the Mainland. But truly we could have travelled 1000 kms south given the sudden weather change, from glorious summer's day to rain squalls and an arctic wind whipping down the beach! My heart sank and I gave thanks to the friend who had advised against leaving the thermals (over dinner at Smolt the previous night). The walk into the first night's camp  is very short beach walk,  giving us all time to get used to the weight of our packs and make the necessary adjustments to make them seem less heavy. The girls are both carrying packs that seem to dwarf them and given that they contain 3 days of fresh food this is not surprising.  So 10 apprehensive campers arrive at Cascade Camp – 6 canvas boxes nestled into the bush behind the beach.  Glamping this is not, but the tents are comfortable with extra blankets (very necessary as it turns out). The main tent is in contrast a work of clever design with deep storage drawers full of goodies and a great space for cooking and eating.  Most importantly a gas fire to warm up those mad enough to have an invigorating swim instead of settling back with a glass of wine and a good book after the 11 km walk to Haunted Bay.  Dinner was a very good 3 course affair whipped up by Dayna while we were out building up an appetite.
Day 2 -Brought a fabulous dawn (not seen by most) but not a great change in the weather. We tried to put a brave face on it, but it was quite hard to do as we listened to in impassioned lecture on the aboriginal history of the island delivered by Claire as the rain dripped of our hats and stuck like ice to wet thighs! However as was to be the case over the ensuing days, the clouds parted and the sun had an immediate impact on both body and mind. The morning's walk was along a series of pristine beaches until we tracked inland to French's farm for morning tea. Up to this point we had really had the island to ourselves, but now had to share it with day trippers on bikes making the 2 hour journey from Darlington at the top of the island where the public ferry comes in. Not many though and soon left behind as we hiked out to the Fleureau Peninsula, once a convict settlement but now home only to Cape Barron Geese patrolling the wind swept hilltops and the black swans in the estuary below. The afternoon brought another 3 beaches, Bloodstone (pictured) among others and then some bush bashing into White Gums Camp tucked away behind the most gorgeous chalk white beach with that exquisite ultramarine blue water. An extravagant afternoon tea of panforte, cheese and dried fruit awaited our arrival. Another great dinner and much wine to warm up the intrepid swimmers with the aid of both gas heaters!
Day 3  – Decision day.  Shall we climb Mt Maria, a tough climb by all accounts done half way with our packs or walk into Darlington to check out our very comfortable accommodation at Benacchi house and have lunch before attacking Bishop and Clarke, the 2nd mountain choice, marginally less high than Mt Maria but reputedly more rewarding. This morning the walking was actually along the main North South road with some stops at a convict quarry and the Painted Cliffs ( pretty striated sandstone ). The arrival into Darlington is spectacular but marred by the ugliest concrete factory silos which are unfortunately a heritage landmark.  So this is where the easy walking finishes. The sensible option would have been to head down to the beach with a good book. But we didn't come here to pike !  So off we set to to conquer the mountain, a 5 hour return hike by all accounts. The outing was nearly derailed by a torrid encounter with a tiger snake which only gets more frightening in the retelling. Bishop and Clarke is a grade 4 scramble not to be underestimated but we all made it and reached the 2nd summit, a rare event according to our guide. The excitement of our achievement was somewhat dampened by the prospect of getting back down, but this was actually not as hard as anticipated and we were rewarded for our efforts by an encounters with a couple of mother wombats leading their charges across our path. We got back to the house at about 7.30 pm and I have never enjoyed a hot shower so much. Another lovely dinner, but those comfortable beds beckoned.
Day 4 – A self guided tour around the convict buildings and The Fossil Cliffs for some of us and a beach swim for others. The girls then surprised us with champagne to accompany our boxed lunch at the ruined House of  Religious Instruction perfectly positioned overlooking the bay.  A jetty jump is considered to be the done thing before departing, so some of the group obliged!
It was all over too soon. I cannot praise our hardworking guides Dayna and Claire enough for their knowledge, energy and enthusiasm. Everything was so well organised and they were both eternally cheerful. A great trip to do with friends and combine with a trip to Mona which is also fabulous.